Voltage Regulator Series
Your location:Xishun Electrics >> Voltage Regulator Series
ZBW series of non-contact AC Voltage Regulator
Hits: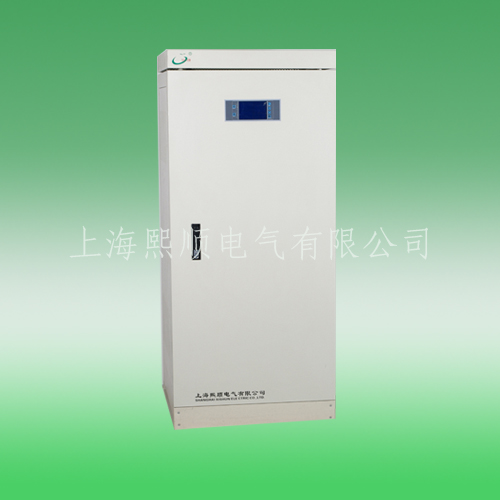 Product Introduction
ZBW series intelligent non-contact ac stabilizer is self-developed and self-manufactured byour company, which has international advanced level. Basing on the particular order, it adoptsintegration and controls several thyristor voltage zero-crossing on and off to change the size andpolarity of compensating voltage, is the perfect combination of thyristor AC switch technology andtransformer technology, and has the advantages of good stability and efficiency, non-pollution topower network, can work continuously and reliably under all kinds of harsh and complex load, theservice life is very long, can continuous trouble-free operation more than 100,000 hours, realizedthe stabilizer long-term free maintenance.
Technical Specification
Input Voltage
Regulators scope
Three Phase304V-456V,One Phase176V-264V
Frequency
50HZ/60HZ
Output Voltage
Rated voltage
Phase Voltage 220V,Line Voltage 380V
Regulators accuracy
±(1-5)% option(±2.5%for the conventional)
Response time
≤10ms
Waveform distortion
Do not produce additional waveform distortion(static)
Efficiency
≥98%
Three-phase imbalance of
Automaic three-phase voltage balance
Delay output
Again from the first regulator(protective equipment without shocks)
Overvoltage
The output voltage of more than 10%(245V),or cut output to bypass uninterrupted
Undervoltage
The output voltage of less than 10%(195V),or cut output to bypass uninterrupted
Proection
Lack of
Have(automatically cut)
Overload
Electronic detection,within three minutes overload cut output
Short circuit
Dual electronic detection and protection circu breakers
Overcurrent
Dual electronic detection and protection circu breakers
Bypass
Manual or automaic bypass uninterrupted
Lighs
Voltage
A、B、C、respectively, with three-phase ABC TRMS figures show
Current
A、B、C、respectively, with three-phase ABC TRMS figures show
Working conditions
Regulators stae/bypass state
Abnormal
Over-voltage, under-voltage, overload, fuse fault
Work methods
The two regulators are working methods and bypass
Overload
Five times the rated current 1 seconds
Work Principle
Using microcomputer(MCU+12-bit high-speed AD PLD) intelligent detectection,electronic control module output directive (IGBT or SCR)Fast switching through the same frequency rtansformers, phase-locked, sine wave superposition compensation maintain output voltage stability.Fast response, No Carbon Brush, No contact, no machinery, automaic three-phase voltage balance.
Fast response
Twelve high-speed AD collection, collecting 64 points a week-wave, digital processing MCU computing, electronic modules rapid compensstion.
Multiple adjustment formula can be set
The same tune: When ses with the tune, while AD Acquisition A,B,C the true RMS voltage three-phase conducted average, gives instructions for compensation can effectively improve the imbalance of the three-phase voltage.
The tune: When set the tune, each three-phase voltage adjustment to ensure the accuracy of three-phase voltages are within the framework of three-phase voltage imbalance in the power grid, we can balance three-phase voltage, Particularly suitable for single-phase load.
Automatic judgment: microcomputer automatic analysis should be conducted at the same tune or transferred.
Aduanced Measurement Technology
12AD acquisition, digatl filtering and SCM TRMS calculation.
The adduracy control
Large-scale programmable logic device and MCU with the perfect.
Human interface
Through touch button operation panel can set various indicators(output voltage regulator accuracy and protection).
No output waveform Distortion
Using non-contact switch is switched off,the same frequency,with the wave,phase-locked compensation superposition principle.
Harmonic interference resistance
True RMS voltage detection.
Wide Load
Resistive, capacitive, inductive load can adapt.
Starting ease impact
A first regulator to output.
Full protection
When there overvoltage, undervoltang,in one second or in the protection of automatic conversion to bypass uninterrupted work, and the lack of sound, overload, short-circuit protection and faul after the sound and light alarm function.
Voltage and current shows
Voltage, current figures show that were true RMS.
ZBWB series of non-contact AC Voltage Regulator(with transformer)
In order to adapt to different countries voltage standard equipment, special PSA has been developed regulator that integrates, No Carbon Brush, No contact, no machinery, the three-phase
transfer.
Specifications and performance characteristics and ZBW series the same, and its dimensions can be customized according to different capacity.
ZBWJ series of non-contact AC Voltage Regulator(Purification)
The rapid economic development, industrial equipment continues to increase, and made China's growing shortage of power supply, power grid quality getting worse. There overvoltage, less
voltage, and instantly the sharp pulse, and instantly fell, equipment inter-EMI electromagnetic interference, and other conductive anomalies. Ordinary regulator power supply can no longer meet
the requirements of special series has been developed ZBWJ exchange purification regulator power supply.
ZBW shape and size of the same series, the series in ZBW increase on the basis of the following functions(including all indicators ZBW Series):
●Surge protection: 40KA high current peak of several attacks since 8-20 us resume(mine)
●peak inhibition: Admission of 4000V, 8-20us pulse, the output is less than 40V
●filter performance: 15KHZ-20MHZ, different mode 70-100dB, 100dB common mode of high-frequency has a good effect
●purification strong function: the load on power grids can filter out interference, but also filter out the interference load on the power grid

ZBWT series of non-contact AC Voltage Regulator(Non-zero line)
In some special occasions, special equipment, power Grid transformer in PSA , the second triangle side by that the output of zero line(neutral line).In response to this situation grid has
been developed ZBWT special series of non-contact, no exchange regulator. Input voltage three-phase three-for the 220V, 200V, 208V, and so on, other technical indicators and ZBW series the same

Scope of Application
Various CNC machining centers, medical equipment, printing machinery and equipment, environmental testing equipment, electronic testing equipment, communications equipment, particularly applicable to large fluctuations of the power grid, is tantaneous voltage power supply mutations and adverse environment. Networ equipment voltage and the voltage of different places.
Various standard voltage in NC machining, medical equipment, printing machinery and equipment, environmental testing equipment, electronic testing equipment, communications equipment.
Model specification
Model
Rated Capacity (KVA)
Input voltage range (V)
Output voltage (V)
Rated current (A)
Cabinet Outer Size W*D*H(mm)
Weight (kg)
ZBW-S10
10
Three phase 304V-456V
Three Phase 380V±7% Can be setup
15
360×610×160
140
ZBW-S20
20
30
360×610×160
160
ZBW-S30
30
46
360×610×160
180
ZBW-S50
50
76
400×660×880
195
ZBW-S80
80
121
660×660×1500
316
ZBW-S100
100
152
660×660×1500
330
ZBW-S120
120
182
660×660×1500
380
ZBW-S150
150
228
700×700×1600
450
ZBW-S180
180
273
700×700×1600
500
ZBW-S225
225
342
900×800×1900
530
ZBW-S250
250
380
1100×800×2100
580
ZBW-S320
320
486
1100×800×2100
630
ZBW-S400
400
608
1100×1000×2200
750
ZBW-S500
200
760
1200×1000×2200/2
870
ZBW-S600
600
912
1200×1000×2200/2
980
ZBW-S800
800
1215
1400×1000×2200/3
1100
ZBW-S1000
1000
1512
1400×1000×2200/3
1300
ZBW-S1200
1200
1823
1400×1000×2200×/3
1450
ZBW-D3
3
One phase 176V-264V
One phase 220V±7% Can be setup
13.6
250×500×500
20
ZBW-D5
5
22.7
250×500×500
28
ZBW-D10
10
45.4
350×600×600
50
ZBW-D20
20
91
350×600×600
80
ZBW-D30
30
136
660×600×1400
100
ZBW-D50
50
227
660×660×1400
140
ZBW series of electronic and mechanical SBW series differs from the exch ange regulator comparison
| | | |
| --- | --- | --- |
| Specifications | SBW series of high-power automatic compensation | ZBW series microcomputer compensation of non-contact |
| Prineiple | Carbon Brush-rely on the surge in themobile transformer change compensation voltag transformer secondary winding maintain out-put voltage stability. There Carbon Brush, contacts, mechanical transmission. | By microprocessors and large-scale logiccircuits (PLD)ex-change control in the AC voltage is switched off 0.1 of a combination of transforme swiching compensation mainain output voltage stability. No Carbon Brush, No contact, no machinery, the three-phase transfer. |
| Response time | Slower(about 200 ms) | Express(<10ms) |
| Voltage adjustment rate | Slow(20V/S,V per second adjustment20V ) | Express(20%jump voltage, voltage stability to the center)of time<10ms) |
| Three-phase imbalance of | EC does not have three-phase voltage-automatic balance function | Automatic three-phase voltage balance, the three-phase transfer |
| Starting ease impact | Non-conventional products | A functional again from the first regulator |
| Automatically boot | Non-conventional products | No, one bailiffs have Shou function automatically boot |
| Anti-harmonic function | There is no such function | Voltage, current acquisition have anti-harmonic function, load equipment in the powei grid or serious harmonic interference, the output voltage can still, maitain stability, current measurement can still maintain accurate |
| Fault Protection | Cut Output | Protection time soon, cutting output or uninterrupted automatically converted to bypass work |
| Bypass function | The manual bypass | There are (and can automatically bypass uninterruped) |
| Periodic maintenance | Regular maintenance | Maintenance-free |
| Parameters | Pointer | Various parameers TRMS figures show |
| Parameter settings | Simulation potentiometer adjustments,or may not ses | Digital touch key settings(convenient,humane) |
Related Product